How to Choose the Right School Bus Routing System
published on March 08, 2019 by Sonia Mastros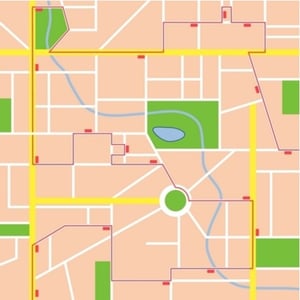 More and more districts are discovering the benefits of embracing a school bus routing system. The right software can radically optimize your routes, while requiring only a fraction of the time needed to create bus routes by hand. They can even offer ongoing benefits, like tracking critical data needed to further optimize your bus operations.
However, this new push for software-based routing solutions has also invited a lot of new software companies to the table - and not all your purchasing options are equal. As one of the first companies to produce a highly effective school bus routing system, BusBoss has some tips on what to look for.
Four Must Haves When You Choose a School Bus Routing System
1. Open Standards Support
In terms of ongoing value, one of the best aspects of a good bus routing package is that it can be compatible with various other hardware and software standards - such as adding student tracking via GPS or additional data collection. However, this can't happen if the software locks you into the vendors' own proprietary formats and systems. Look for software that allows for easy expansion, without getting trapped by proprietary vendor lock-in.
2. Multiple Optimization Standards
"Optimization" isn't a single strategy - it depends on what you need for your own routes. One distract may be trying to reduce the number of buses in its fleet, while another may be trying to optimize for shorter route times, and a third may prioritize gas mileage. A great bus routing software package will allow for all these forms of optimization, and more, so you can create the best routes for your own needs.
3. Few or No Ongoing Fees
So called "X-as-a-Service" technologies are taking over IT, and that's not necessarily a good thing. Often, vendors use it as an excuse to shoehorn in recurring "service fees" that add little or nothing to the package. With basic bus routing software, this shouldn't be needed. If your vendor is asking for extra fees, without offering something truly special as a value proposition, look for another option.
4. The Ability to Define "No Go" Zones
Just about any district is going to have areas where students simply don't need to be. Whether it's an "adult" area of town, or a neighborhood known for violence, or the vicinity of a registered offender, your bus routing software should always give you the option to stay far away from these zones. You can improve safety simply by keeping students out of areas which are unsafe.
5. GIS Mapping Made For Routing School Buses
Most online mapping programs do not take into consideration safety concerns when routing school buses. Google, Bing and MapQuest are good for personal use vehicles but don't come close to handling larger vehicles. Buses turning around are the number one reason for accidents. Make sure the routing program prevents turn-arounds and sharp turns that just can't be made by school buses.
See the Possibilities in School Bus Routing Software for Yourself!
BusBoss has one of the best-established bus routing software packages available, with robust expansion options. Contact us today to schedule a free demonstration!
Are you currently using routing software? What do you feel is the primary reason to have this type of program? Please post your comments below.