How Routing Software Increases Special Needs Student Safety
published on July 01, 2022 by Sonia Mastros
student management, route optimization, special needs students, school bus routing software, routing software, school bus driver shortages, inefficient routes, outdated routes, inaccurate routes, route efficiency, state reporting, re-routing, bus shortages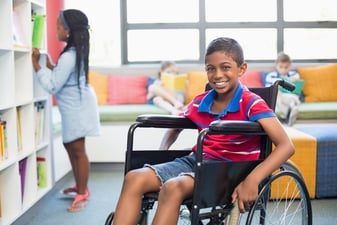 Transporting special needs students to and from school is a challenge for many bus drivers, even when school bus routes are organized and a school district's fleet management is effective. Transportation routing software is beneficial when planning any bus route, but special needs student bus drivers may appreciate the software the most.
For example, school districts are able to upload forms and documentation to their bus routing and scheduling software that give bus drivers access to medical information, disability information and emergency contacts for students.
Routing Software Provides Access To Information That Improves Student Safety
When a driver is transporting a bus filled with special needs students, certain documentation is helpful for both the driver and the adult aid who watches over students on the ride to and from school.
For example, special alerts within your district's routing software notify drivers when a special needs student has a wheelchair requirement. Equipment, such as a lift and reserved space for a wheelchair, must be available in this situation in order for the student to ride the bus safely.
By using software that alerts the dispatcher and the driver of necessary information, you ensure buses are prepared for each special needs student. The automated nature of these alerts allows drivers to get the alerts and move on, so they are able to concentrate on driving safely and bringing students to school on time.
Given the numerous options for uploading documentation to transportation routing software, it's sometimes difficult to know where to begin. The following list includes some of the information your bus drivers must be informed of when transporting special needs students.
Use routing software to accommodate special needs students by tracking these required items:
IEP reports
Care requirements
Wheelchairs (electric or manual)
Aides and nurses
Medications
Allergies
Physicians to contact
Car seats, harnesses or restraints
Service animals
Emergency contacts
Drivers face enough challenges when transporting special needs students without having to worry about whether or not they have the updated documentation they need to keep students safe.
For instance, if a driver is using a van to bring students to school, they must have a special certificate that demonstrates they have been trained on how to use wheelchair equipment. This certificate can also be loaded in your district's route software so neither the district nor the driver faces liabilities.
Students Are Safer When Bus Drivers Are Able To Do Their Jobs Effectively
Most people feel more at ease when doing their jobs if they have the information they need to prepare for the day. If a student needs a car seat and a driver does not have one, the driver faces significant difficulty in bringing the student to school.
How would the driver handle the situation? They will either request another driver who does have a car seat, have staff or the parent provide a safety approved car seat, or return later after obtaining a car seat, which usually results in the student being late to school. Meanwhile, the student may be at risk if he or she has been left at the bus stop with minimal supervision.
In order to improve safety for special needs students, it is necessary to have the proper documentation on file and readily accessible to bus drivers. Whether a student requires a bus with wheelchair access or is in danger of a medical emergency, special needs routing software ensures bus drivers have the information they need.
Routing and scheduling software offers a number of safety benefits for all students, including special needs children. If your school district is considering software to optimize bus routes and increase student safety, an industry professional is able to offer guidance.
Interested in learning more about how routing software improves student safety? Discover 10 ways to schedule safe school bus routes.