How Bus Scheduling Software Improves Your Fleet Optimization
published on February 03, 2015 by Sonia Mastros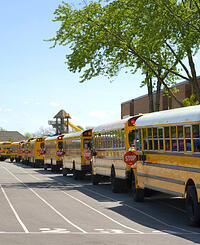 Are you fielding too many calls from frustrated parents fed up with inconsistent bus schedules impacting their morning routine?
Do you have ever-looming budgetary concerns? Are school district board members persistent in pressuring your department to cut back on fleet management expenditures?
Manually scheduling school bus routes and times is a static, one-dimensional process that results in late buses, too many parental calls and unnecessary spending.
With the right school bus routing software, you are able to easily overcome the challenges of your route scheduling. The software allows you to analyze your bell times for all grade levels and then tier your bus routes accordingly.
Consider the morning bell times of your high school students versus your elementary students. It may be ideal to create tiered school bus routes and times for high school and elementary grade levels in the morning and afternoon. With bus tiering, you're using the same buses and drivers for both runs – this effectively decreases your bus fleet by 50%, your drivers by 50% and your overall costs as well.
How Bus Scheduling Software Ensures Fleet Optimization
Creating effective tiered bus routes is a bit more challenging than simply having earlier bell times for high school versus elementary school. When looking to create tiered bus routes, you're going to encounter many "what if" scenarios.
"What if I start elementary school earlier than high school?"
"What if a big percentage of high school students drive?"
"What if enrollment numbers for different grade levels aren't balanced?"
"What if high school only has to start 30 minutes earlier than elementary school, instead of 45 minutes?"
This is why you want bus scheduling software that allows for unlimited scenarios to create a variety of trial runs. Reviewing a wide range of hypothetical bus tiering schedules, with just a few clicks, is the fastest, easiest and only true way to ensure your fleet is fully optimized.
Moving to a tiered bus system reduces your school bus transportation expenditures. You add more miles to each bus you have, but your overall fleet costs are lower since you're using drivers and buses you already have.
With bus scheduling software, you're ensuring efficient school bus transportation with far fewer double-backs and less time spent on buses for students in different grade levels. You're using less fuel, paying less for maintenance and spending less on driver salaries and benefits.
Saving time and money, on every facet of your school bus transportation: This is what fleet optimization is all about.
Ready to learn more about the capabilities and benefits of bus scheduling software? Click here or call 484-941-0820 to speak with a BusBoss school bus routing expert.