Four Tips for Improving Student Bus Transportation in 2020
published on February 11, 2020 by Sonia Mastros
school bus management, student bus transportation, school bus transportation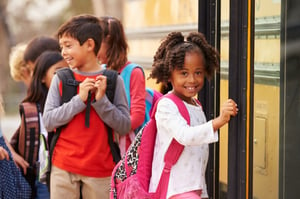 How are you going to improve your student bus transportation system in 2020 and beyond? The previous decade has seen huge shifts in how schools handle their buses, as well as student safety. Now is the perfect time to start looking ahead, and planning how you'll improve your bus system in the next decade to come!
Four Ways To Make Your Student Bus Transportation System Better In The Coming Decade
1 - Better school bus routing software
Over the last decade, use of routing software to handle bus routing has gone from being only used in the largest districts, to something which is affordable for any school district. There's no need to do routes manually, when a computer can calculate millions of potential routes within seconds to pick highly-optimized routes.
And in the decade to come? Machine learning. Boston has begun using AIs to handle its school bus routing - to great effect. However, that level of effort may not be necessary for smaller and less-complicated districts.
2 - Seat belts
For decades, arguments have raged over whether seat belts in school buses were a good idea. Now, it seems like the "common wisdom" that they aren't necessary is fading away. Currently seven states require belts on buses, and those include major influencers like Texas, California, New York, and Florida. It seems increasingly likely that the rest of the country will go in that direction in the years to come.
So, it may be best to start planning on seat belt upgrades now, rather than later.
3 - Smart screens for drivers
Another major growing trend is putting tablets and other smart devices next to the driver. Other forms of commercial transportation, such as trucking, have been integrating smart devices into their driving systems, to great effect. With a large touchscreen nearby, the driver can clearly see maps, communicate with the district, or even monitor students via in-bus camera systems.
With smart devices becoming cheap and affordable, this is an upgrade most districts could afford to investigate.
4 - Reducing stop-arm violations
There is no doubt that stop-arm violations are a huge threat to student passengers on buses, with both districts and state governments looking for solutions. Two major ideas are gaining traction:
Introduce cameras to the stop-arms, and ticket drivers who pass illegally.
Put more lights and bigger stop signs onto buses, to make them more visible.
Both these approaches have their proponents, and a district would be wise to start looking into their options.
So, a new decade stretches ahead of us. How is your district planning on improving student bus transportation services in the year to come? Let's talk about it in the comments!