Florida District School Bus Drivers on Bullying
published on December 20, 2016 by Sonia Mastros
school bus bullying, school bus safety, school bus transportation software, school bus driver training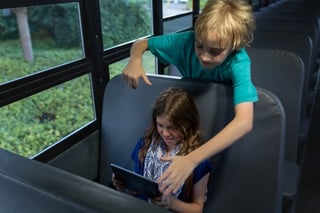 Bullying is a major concern across the country, and in Central Florida, a special two-day training session provided special tools for bus drivers facing this issue.
Bullying on the Bus
Close to 1,500 employees of the Orange County School District in Florida met at the Orlando Convention Center to discuss emergency response techniques and bullying on the bus. Discussed were some of the signs of bullying and what to do when bullying is suspected. Though most teachers and school administrators receive training on bullying prevention, school bullying often takes place outside of the classroom setting.
According to a report by the National Education Association (NEA), approximately 40 percent of bus drivers have received reports of bullying. In just over 20 percent of cases, a parent reported the incident, but in a majority of cases, bullying was reported by other adults within the education system.
The training in Orlando emphasized the need for school bus drivers to get to know students on an individual basis and to immediately address any inappropriate or unsafe behavior. Drivers were also encouraged to be open with students, encouraging them to come forward when they feel uncomfortable. The development of a good relationship between drivers and students was discussed as part of the training.
School Bus Safety
As well as training for school bus drivers, some districts are encouraging the employment of school bus monitors to help assist with stopping school bus bullying. The NEA suggests that school bus drivers report suspected instances of bullying to school administrators and supervisors in a timely manner so that serious or violent incidents can be avoided. Technology is also assisting in the fight for student safety with student tracking software. Training continues to be one of the best ways for school districts to ensure that school bus drivers have the tools they need to keep children safe from bullying.
To discuss some of the transportation software options that you can use to ensure student safety, contact the transportation specialists at BusBoss. We'd be glad to talk to you about the specialized technological options that districts like yours are using to manage their fleet.
Does your school district provide training on bullying for its school bus drivers? How has this helped to keep students safe and encourage positive relationships? We appreciate your feedback.