Fleet Maintenance: How to Spot Common Brake Problems
published on May 26, 2016 by Sonia Mastros
fleet maintenance, brake problems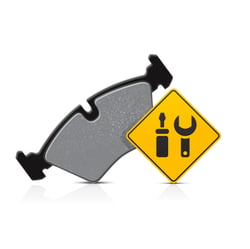 School buses are widely regarded as some of the safest, most reliable vehicles on the road; however, brake problems have been noted on buses manufactured by major brands. The frequent stopping of school buses can place stress on brakes, so keeping an eye out for common brake problems should be a part of your regular fleet maintenance program.
Inspect Often
Thoroughly inspecting brakes is necessary for keeping school buses running safely. The condition of the lining, rotor plate thickness, brake hose flexibility and brake fluid should be inspected on a regular basis. Follow the manufacturers' recommendations for brake service and maintenance.
What to Look for
When inspecting brakes, look out for these common problems:
Crumbling pads, which are often the result of chemicals such as road de-icing agents
Uneven wear of brake pads and rotors
Brakes which are out of adjustment
Spotting Break Problems
Maintenance staff are, of course, essential to keeping brakes properly maintained. However, drivers are often the first to spot brake problems. Drivers should always report any braking issues they experience, including:
Feel of the pedals
Grinding or squealing sounds
Increased stopping distance
Warning lights
The presence of brake fluid on any brake components
What Should be Checked?
There are several activities that should be included as part of regular fleet maintenance procedures for the upkeep of brakes.
Balance brake system
Measure stopping distance
Replace any questionable brake components
Test drive buses to ensure smooth operation
Air brake maintenance requires additional measures, such as:
Regular replacement of camshaft bushings and brake drums
Proper lubrication of brakes
Check for cracked or bulging hoses
Ensure that automatic brake adjusters are working properly
Annual air dryer maintenance
Upkeep of bus braking systems is an important component of school bus safety. By pairing consistent mechanical maintenance with technologies, such as transportation software, that can evaluate factors like hazardous road conditions and total planned mileages, brake wear and tear can be minimized.
To learn more about school bus safety concerns and how your district can utilize the latest transportation software to keep your students safe, contact the team at BusBoss. We would be happy to discuss the many available options for ensuring that your students ride safe.
How has your school district ensured that regular brake checks are included in fleet maintenance routines? We would appreciate your feedback.