Five Trends in School Bus Driver Retention
published on September 05, 2017 by Sonia Mastros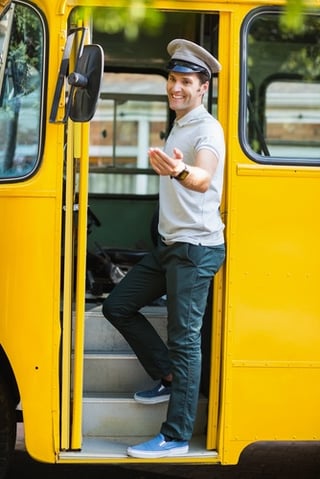 The current school bus driver shortage means that holding onto your existing drivers is of paramount importance. If you lose a good driver, it could be months - or more - until you find a suitable replacement. Unfortunately, due to the pressures and problems with school bus driving as a career, most districts are seeing higher-than-normal levels of driver turnover.
There are many different ways to approach this problem, but they all revolve around finding ways to keep your drivers happy and maintain morale. Here are some of the best ideas we've seen for better school bus driver retention from districts around the country.
Five Ways To Improve Your School Bus Driver Retention
1. Have plenty of training and assistance.
Don't let your drivers feel like driving is a dead-end career, or a job one only does "until something better comes along." Have plenty of programs aimed at expanding your drivers' skills, and have appropriate assistance available. If applicable, you might also consider partnering with a local community college or university to offer tuition reimbursement for drivers pursuing continuing education.
2. Offer re-signing bonuses.
Find incentives to offer your drivers for sticking around each semester. This could be cash, prizes, stacking awards for each year served, or any other incentive you can offer. Getting them back in the fall is one of the most important aspects of retention.
3. Make better hires.
Many districts are so desperate for drivers that they'll hire almost anyone who meets the basic qualifications. There may be situations where this is justified, but otherwise, be more selective. If you focus on hiring drivers who are good fits or even seem enthusiastic about the job, you'll see better retention compared to those who are only dragging themselves out of bed for the sake of a paycheck.
4. Implement satisfaction surveys.
In districts with larger bus fleets, it may not be feasible to schedule one-on-one time with every driver. Try having satisfaction surveys instead to understand their opinions of the job, suggestions for improvement, and such. However, if you do implement these surveys, be transparent about the results and be willing to take action if the results show major issues. Having a survey, but ignoring the results, will absolutely destroy morale.
5. Give them uniforms.
This is an idea that has been picking up in popularity. Instead of having a relatively lax policy on driver dress codes, try standardized uniforms. Make sure they're comfortable and professional looking. As an added benefit, students seem to be easier to control when the driver looks more authoritative. Be sure to include the school district logo on the uniform so the driver can show their school's pride when representing the district on driving routes and at district functions.
Contact BusBoss today for a free consultation on your transportation system optimization!
What about you? How is your district improving school bus driver retention? Let us know in the comments!