Federal Legislation Seeks $1B in Funding for School Buses
published on April 07, 2021 by Sonia Mastros
School Buses,, school bus laws, school bus funding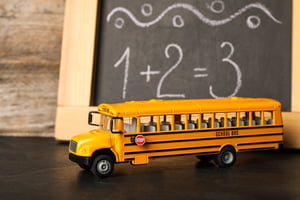 If your school district is interested in upgrading to electric school buses, you may get some help in the next few years. The "Clean School Bus Act" has been re-introduced in the House Of Representatives, and would provide over $1 billion dollars in funding to help districts pay for clean-energy bus upgrades.
The bill was first introduced in 2019 by several Democrats in Congress, but due to political tensions at the time, it died in a Senate committee without much action. Now, it has been reintroduced and stands a much better chance of passing. Passage isn't a sure thing - and the government has a lot on its plate at the moment - but if it does pass it could be good news for districts hoping to reduce their reliance on fossil fuels.
Looking At The Clean School Bus Act Of 2021
The bill is straightforward in its goals. It would establish a program called the "Clean School Bus Grant Program" within the Department of Energy, along with funding totaling over $1 billion over the course of five years. This would be dispersed to qualifying school districts specifically for the purpose of replacing fossil fuel school buses with electric school buses, as well as installing other necessary infrastructure such as charging stations and maintenance supplies. The maximum amount any one district could receive would be $2 million.
Districts which qualified for the grants and purchase new buses would be required to scrap the diesel engines within their old buses, and provide proof of destruction. Schools are also allowed to keep any money they can make disposing of the old buses without engines, such as selling them at auction.
The buses and other materials purchased would need to be made in America, although there are a few exceptions which can be claimed in specific circumstances.
If there are more applications than funds available, priority would be granted to low-income school districts, as well as those whose upgrades would result in the greatest amount of carbon emission reduction. This would help ensure the districts most in need would be the ones receiving the funds.
All in all, it's a relatively simple and straightforward proposal. It is well agreed that the country needs to reduce its reliance on fossil fuels, as well as needing to reduce the amount of carbon emissions created by vehicles. This law, if passed, would go a long way towards promoting both goals.
But, what do you think? If the Clean School Bus Act were to pass, would your district try to apply for funding? Let's discuss it in the comments below!