Electric School Buses Linked to Environmental Justice
published on September 03, 2021 by Sonia Mastros
School Buses,, student bus transportation, electrical school buses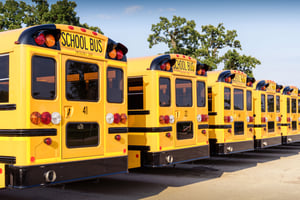 We recently came across a fascinating article on School Bus Fleet, interviewing Johana Vicente. Vicente is the national director of a socio-environmental activist group called Chispa, dedicated to looking at the impact of fossil fuels on people of color. They speak out against both the exploitative ways fossil fuels are obtained and processed, as well as how low-income minority communities are often disproportionately affected by pollution.
One of their main thrusts is a push to see electric school buses adopted across the country. According to Chispa, electric buses aren't merely good for the environment - they're also good for Latin communities as well as other people of color across the nation.
Their work is solid, and they've helped districts across the country find funding for electric vehicles. They also help highlight some of the major barriers to EV adoption around the country. It's useful to look at these barriers since they are going to affect districts everywhere - especially those with large minority communities.
Three Social Issues With Electric School Bus Adoption
1. Minority Districts Are Often Under-Funded
Without getting into the whys of the situation - which is a separate topic - districts with a large number of POCs tend to be less wealthy than majority-white districts. This makes it especially difficult for these districts to upgrade their buses. Electric buses cannot be post-conversions of existing vehicles; they must be purchased new - and can easily cost upwards of $300,000 each. This is 2-3x what a diesel bus costs to purchase.
More government funding and other public programs will almost certainly be needed to pay for upgrades in underprivileged areas.
2. Minority Areas Have More Pollution Problems in General
Because decades of housing policies have pushed POCs into less-desirable zones, their neighborhoods tend to be closer to sources of pollution such as factories. This creates an additional barrier to reducing pollution in these areas since there are numerous sources to worry about.
Ideally, a push for electric school buses would need to be accompanied by wider initiatives to reduce pollution in these areas.
3. Pollution May Contribute To Lower POC School Scores
Numerous studies have recently shown direct links between pollution and test scores. Students who ride diesel buses and breathe in the fumes tend to score significantly lower on tests that day, even when all other variables are controlled for. With many minority districts being heavily polluted, and forced to rely on diesel buses, it's easy to draw a line between polluting buses and lower student achievement.
This is an important issue, and it's good that groups like Chispa are highlighting it. Has your district had any experiences relating to pollution in minority areas? Please share your insights in the comments!