Eight-Way Light System on Wisconsin School Buses
published on January 13, 2017 by Sonia Mastros
school bus safety, school bus transportation software, school bus transportation, Wisconsin school buses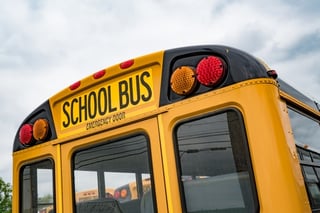 This fall, Wisconsin implemented an eight-way light system for school buses throughout the state. This measure aims to increase the safety of students who rely on school bus transportation. A law that went into effect on August 16 now requires the eight-light system on newer buses statewide. The new law will apply to all buses manufactured after the 1st of January, 2005.
The Eight-Light System
This light system uses amber lights which flash prior to the red lights to warn motorists that the bus will soon stop. Many states have already had this system in place for some time, some as early as the 1970s and 80s. Traffic may pass the school bus when the amber lights are flashing, but should do so with care. Once the red warning lights flash, drivers must stop at least 20 feet away from the bus and stay there until the bus is back in motion or the lights are turned off. Failure to stop for a school bus will result in a fine, along with points added to the offender's license.
Bus drivers are required to turn on the flashing amber lights no less than 300 feet before stopping in a 45 mph speed zone or 100 feet before stopping in a speed zone that is less than 45 mph. The flashing red lights must be activated when the bus is stopped. Certain local ordinances have additional rules regarding school bus transportation safety and the use of warning lights.
School Bus Safety
The most dangerous portion of a student's bus journey is their entry onto and exit from the vehicle. Along with lighting systems, school districts are working to keep students safe by utilizing stop-arm cameras to prevent illegal passing, keeping track of buses via GPS tracking systems and by using state-of-the-art technology to plan the safest routes.
To learn more about the specialized technological tools that can keep the students in your district safe, contact the team of transportation specialists at BusBoss. We'd be glad to provide you with additional information regarding our school bus transportation software programs and schedule a demonstration.
Does your school district require the use of an eight-way light system? Has this increased student safety? How have motorists responded? We appreciate your comments and feedback.