Eight Tips for Recruiting School Bus Drivers
published on November 05, 2020 by Sonia Mastros
school bus transportation, school bus drivers, recruit school bus drivers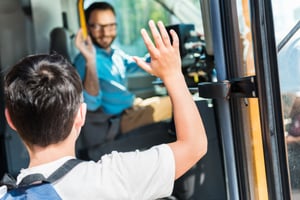 We keep waiting for the bus driver shortage to end, but it doesn't. For years now, schools have been struggling to find enough school bus drivers to keep all their routes running, and still the problem persists. According to recent studies, 24% of districts describe their shortage to be "severe" or "desperate," and another 38% report "moderate" staffing problems. Only around 10% claim to have no driver staffing issues at all.
In short, districts will have to continue to hustle if they're going to find new drivers, and keep trying new tactics. Here are some more things to try!
Eight Ideas For Recruiting More Bus Drivers
1 - Reach out to other CDL owners
There is a fair amount of discontent in the world of commercial driving, such as trucking, with drivers feeling overworked and underpaid. Some of these discontented truckers might be persuaded to switch to a job with steady, reasonable hours.
2 - Provide full training
On the other hand, recruiting brand-new drivers is also an option. Paying for CDL training and licensing definitely adds to recruitment costs, but these new drivers should have a much higher degree of loyalty to you for helping improve their skillset.
3 - Advertise on bus sides
Turn your bus into a moving billboard. Put a call for new drivers, along with a phone or email address, on the side of the bus so that it can be seen by anyone along each route.
4 - Direct mail
Direct mail flyers are incredibly cheap to print and mail out. Dropping one in every mailbox across town is bound to bring in at least a few new applicants.
5 - Radio ads
AM radio is another good, cheap form of outreach - and its demographics will work in your favor, since retirees looking for a part-time job can be excellent recruits. Contact your local talk radio stations and see what sort of rates they want.
6 - Offer better benefits
School bus drivers don't always get the best benefits, or may even be excluded due to their part-time status. Offering substantial benefits packages will attract interest, or potentially allow you to poach drivers from other districts.
7 - Recruitment bonuses
Get your district staff involved. Offer rewards to anyone who refers a new driver who stays with the district for at least a semester.
8 - Prepare an outreach pitch and look for speaking opportunities
Most mid-sized towns and larger will have groups like the Rotary Club, Lions, Kiwanis, etc, who frequently host guest speakers. Make contacts with them, and arrange for talks - with a pre-made slideshow/presentation ready for quick use.
There's no single magic-bullet solution to the bus driver shortage. How is your district coping? Lets share our tips in the comments!