Congressional Representative Pushes for School Bus Only CDL
published on December 31, 2021 by Sonia Mastros
School Buses,, student bus transportation, school bus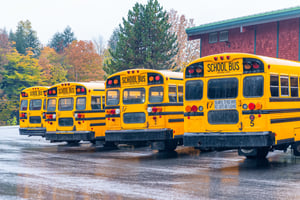 It's no secret that the school bus driver shortage is only getting worse. Year after year, school districts are having more difficulty finding drivers, and it's becoming an increasing burden on district transportation managers. The ongoing COVID-19 outbreak has only made the situation worse, with many drivers deciding to retire, or move into other fields - especially if they feel like they aren't getting proper support from their district.
Further, the problem isn't limited to school districts. Every industry that requires drivers with Commercial Drivers Licenses (CDLs) is hurting for drivers, and that's bad news for schools. They're in direct competition with large businesses with deep pockets. If major players like the shipping industry can't find enough CDL drivers, how are schools supposed to compete with their relatively meager budgets?
One lawmaker sees a potential solution, but it requires cooperation from the Federal government: eliminating the requirement that school bus drivers hold a CDL, and establishing a separate school bus license instead
Do School Bus Drivers Need A CDL?
In September, New York Representative Joe Morelle sent a letter to Secretary Of Transportation Pete Buttigieg asking for the CDL requirement to be waived. His argument boils down to saying that too many elements of the CDL simply are not relevant to school bus drivers, and that the requirement is creating an unnecessary burden for schools competing in the labor market. He proposed instead creating a new license specifically for school buses, which would still cover important bus-focused topics and safety, but without all the requirements of a full CDL.
Fundamentally, this would accomplish three things. First, it would make it far easier for schools to recruit new drivers off the street, since the training requirements would be reduced. Secondly, it would speed up the process of getting those new drivers into buses. Third, it would take schools out of competition for CDL-holders, which could be to the benefit of both schools and other driving industries.
It's a strong argument, and seems like it would work. The unaddressed question is how much training would be required for these hypothetical new school bus licenses, but creating a new training program wouldn't be too much of a burden.
At time of writing, there has been no response from Secretary Buttigieg, who has been on paternity leave for the past month. We hope he'll consider the proposition carefully once he's back at work, and will report if there's an official response.
What do you think? Would this be a good way to boost the ranks of bus drivers around the country? Share your thoughts in the comments!