Bus Routing Software Lets You Plan, Monitor And Budget For Field Trips
published on May 19, 2015 by Sonia Mastros
bus routing software, managing field trips, field trip planning, field trips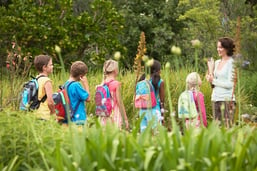 Field trips have a proven track record of engaging students outside of the classroom and paving the way to a successful educational future. As every school transportation program administrator knows, however, field trips are not always simple to plan.With bus drivers busy transporting students to and from school every day, strategic scheduling with bus routing software is necessary to ensure drivers are available to take students on a field trip. Are field trips worth the time and monetary cost?
A study by the U.S. Travel Association suggests that they are. In a study of 400 adults, half of whom had taken a field trip as a child and half of whom had not taken a trip, those who had taken trips had a higher chance of:
Graduating high school (95%)
Graduating college (63%)
Earning a higher income (12% higher annually)
If it benefits students to take field trips when they are young, it also benefits school transportation programs to plan, monitor and budget for field trips. Learn how GPS tracking and routing programs benefit your school district.
Route Optimization Software Helps You Plan For Field Trips
Routing software assists in field trip planning with a number of beneficial features. Geocoded trip destinations and driving directions allow you to plan the route in advance of the trip so that bus drivers are prepared to drive on the morning students leave.
Vehicle tracking software also allows users to assign destinations, students and chaperones to each bus to ensure children are well supervised and get off the bus with an adult in the correct location. Bus drivers are able to print required forms including permission slips, medical information and other documents necessary for children on a field trip.
Teachers and coaches have permissions within bus routing software to request trips, while administrators are able to approve or deny trips. If a trip is approved, routing programs assist transportation employees with assigning drivers and scheduling buses.
Bus Routing Software Allows You To Budget For Field Trips
Budgeting for a field trip is sometimes the most difficult task associated with planning due to trip fees, fuel costs and other expenses. While raising money is an option to help students pay for tickets to a museum, for example, the school district is often responsible for budgeting all other aspects of a field trip.
Once the school bus route and other trip preparations have been planned in advance, bus routing software allows administrators to do the following:
Assign department budgets
Calculate trip times and mileages
Calculate overhead costs and trip fees
With budget features in place, bus routing software helps administrators find ways to fund educational trips.
GPS Tracking Software Allows You To Monitor Buses
While field trip management programs are usually sold separately from routing software, this add-on is a valuable tool for tracking buses and students on field trips.
To get the most out of GPS tracking software, school districts should integrate it with bus routing software. With the add-on in place, administrators know what buses are available for a field trip and they are able to monitor the buses in real time.
Bus routing software is a beneficial solution for school districts that face organization and scheduling problems when planning for school field trips. By making the jobs of bus drivers and chaperones easier, routing programs ensure field trips are more enjoyable for everyone.
Many transportation administrators have questions about how route optimization software is able to help them plan more efficient school bus routes. Consulting an expert is a beneficial first step to finding answers.
Take the next step towards updating your program's technology capabilities by trying a free bus routing software demo.