How To Make Court Ordered Split Custody School Bus Routing Easier
published on January 31, 2023 by George Mastros
Transportation Management Software, bus routing software, BusBoss, route optimization, student management system, split custody routing, school bus routing software, school bus driver shortages, inefficient routes, outdated routes, inaccurate routes, route efficiency, state reporting, re-routing, bus shortages
As a transportation director, you have many responsibilities. Accommodating court ordered split custody school bus routing is just another one of them. While you may find this to be a nuisance, there is school transportation management software available that can help keep track of it all.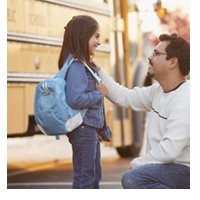 The way in which you handle this type of situation is largely dictated by your school district's transportation policy. Some school districts will only provide transportation to students that live within the attendance boundaries of the district. In a split custody situation, it is possible to have one parent living within the district boundary and another living outside the boundary. When a child lives within the district part of the time, there should be a district policy in place to clearly state whether this child is required to attend a school in your district to be eligible for transportation services.
Most school districts will not travel beyond their boundary to transport a child even in a split custody situation. In this situation, the parent living outside the boundary of the school district may have the option of transporting their child to and from school or arrange with the transportation department to pickup and drop off the child at a bus stop that is within the school district boundaries.
If both parents reside within the district boundaries, the school is most likely required to provide transportation services for the student. This does not mean that the bus must stop directly in front of the child's house. There are other district policies that allow for a child to walk to a group stop within a specified distance of their house. This applies independently of which parent the child happens to be staying with that day. Sound complicated?
Keeping track of thousands of students is difficult enough. When you add the extra burden of tracking court ordered split custody school bus routing, it just makes the task all that much more difficult. With BusBoss School Transportation Management Software, you can assign and track daily routing for your split custody students in various ways.
For example, suppose you have a student staying with mom one week and dad on alternating weeks. BusBoss can route this. You also have this same student going to dad's house on Friday afternoon and getting picked up at dad's house on Monday morning. BusBoss can route this. The same student goes to mom's house for the remainder of the week. BusBoss can route this. Regardless of their schedule, BusBoss can accommodate it.
Please leave us a comment below!!