15 Things a Student Information System Can Tell You
published on November 04, 2022 by Sonia Mastros
bus routing software, transportation routing software, bus route optimization, school management system, student management system, Pearson PowerSchool, School Bus Routing, school bus driver shortage, inefficient routes, outdated routes, inaccurate routes, route efficiency, state reporting, re-routing, bus shortages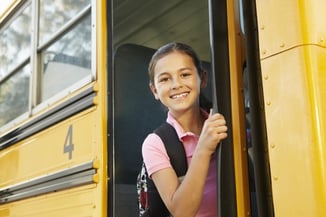 Are you still managing your student information on paper? Or are you still juggling Excel files,
rather than investing in a true database solution?
Student Information Systems (SIS) are here, and they're revolutionizing how schools are handling their student data. When you have a single combined database streamlining your operations, everything in your school district will work more smoothly.
If you're still using older methods of student data storage, here are just a few of the ways a solid SIS can improve your district's operations.
Fifteen Ways Integrated Student Information Systems Ease Operations
1 – Instant Data Transmission
When a piece of data is changed within an integrated SIS database, that means it changes everywhere, instantly. There's no need to hand-input a piece of information more than once, saving time and preventing mistakes.
2 – Self-Auditing Systems
Obviously, a database is only as reliable as the information put into it – but a modern SIS watches your back. It keeps backups of its database, and runs constant checks to ensure the data remains valid from day to day.
3 – Remote Parent Access
Most SIS databases now include web portals, mobile apps, and other means for parents and students to access their data on the go. This also allows parents to update their own records, such as their phone numbers, without having to contact the office to do so.
4 – Reliable Student Addresses
Every school day begins and ends with your buses, and it's vital they know where to go. Luckily, a SIS that can interface with in-bus GPS systems will ensure your buses are going to the right stops, even if there's been an enrollment change that same day.
5 - Bus Routes For Every Student
You'll be able to see a breakdown of every student, and every stop, giving you total oversight of your busing operations. Even if a student has multiple residences, you'll always be able to verify the routing is correct for each day.
6 - Complete Student Schedules
This is one of the most basic functions of a student information system, especially as your student body grows. You'll have an at-a-glance overview for every student's schedule, for every day of the school year. If your student schedules are still on paper, this alone will be a huge time-saver.
7 – Streamlined Attendance Tracking
When you have a SIS watching over your students, you can know exactly who's supposed to be in class before they arrive! Your teachers will have estimated attendance sheets ready that, often, merely need to be approved.
8 - Student Locations On Campus
While it's an optional feature, if you have RFID tracking integrated into your SIS, you'll pretty much know where every student is for the entire time they're on campus. The system can even automatically notify you if a student is wandering outside of their assigned class.
9 – Rapid Calendar Creation
You can quickly and easily create full school calendars through a Student Information System, as well. From adding events, to emailing the results out to parents in the district, it will vastly simplify your calendar-related communications.
10 – Automated Parent Notifications
A SIS can store multiple types of guardian contact information, and even send out automated messages when you need them to. If a child becomes sick, for example, the SIS can send an email or call their cell phone for you.
11 – Reliable Bus Data
You receive state funding based on the maintenance and usage of your buses, so why rely on hand-written logs from exhausted drivers who just want to go home? Tying your buses to your SIS means their information becomes part of the database, ready to be submitted to the state.
12 – Accurate Bus Ridership Records
If someone asks where their child was dropped off, the words "I think..." only cause trouble. An integrated bus-tracking SIS system will tell you exactly where and when any student has gotten off the bus. This can be verified in moments, even with a parent on the phone.
13 – Robust Future Planning
Student Information Systems can handle any number of "what if" scenarios, from redesigning your student's schedules, to entirely redistributing students around your school district. Complex plans from the school board can be analyzed quickly and easily, potentially preventing months of extra work.
14 – Easy State Reporting
Finally, consider how much easier it would be to be able to complete your state reports in just a few clicks. A SIS can make this process a snap, while using the most accurate possible data, boosting your state revenues.
What do you think? Are there other ways that student information systems keep you and your parents informed? Let us know in the comments below!