What You Need In A Transportation Supervisor
published on April 14, 2023 by Sonia Mastros
transportation routing software, route optimization, vehicle routing software, school bus routing software, transportation coordinator, transportation supervisor, school bus driver shortage, inefficient routes, outdated routes, inaccurate routes, route efficiency, state reporting, re-routing, bus shortages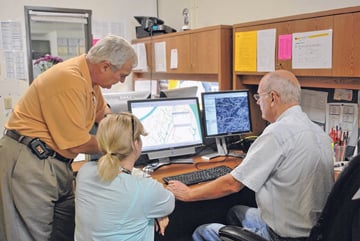 As transportation systems become more complex, handling their management and oversight similarly becomes a more complex task. In the past, you may have done well enough scheduling and routing your vehicles with strings and pushpins on maps, and using simple radio (or cell phone) contact to keep in touch with drivers on the road.
Unfortunately, the stakes keep getting higher, and the penalties for failure keep getting harsher. A single road accident could cost your enterprise millions of dollars. If your cargo is more precious, such as school buses carrying children, the damage done by an accident could be far beyond repair or repayment.
Similarly, as the pressures to cut costs mount, you may find yourself needing someone whose job is simply to oversee your transportation and ensure everything runs smoothly. This is when you might consider hiring a transportation supervisor, to both cut your costs and help improve safety.
Let's take a closer look at what a transportation supervisor does, and what to look for if you are interested in hiring one.
The Essential Qualities Of A Transportation Supervisor
One important note to put up front is on how a transportation supervisor varies from a transportation coordinator. Among small enterprises, they may be one in the same person. However, if your operations are large enough to justify further oversight, the transportation supervisor would be the next step above the transportation coordinator in your hierarchy. The coordinator handles the day-to-day operations and works directly with your drivers, and the supervisor would be in charge of oversight and interface.
In other words, unlike the role of a transportation coordinator, which could be roughly compared to that of an air traffic controller, a TS has more of a purely administrative role.
In the smallest of operations, they may occasionally be called upon to drive themselves, although such situations are rare. None the less, they will need a solid grasp of all the roles that they will oversee.
As such, a good transportation supervisor needs:
Customer service skills: One of their most important duties will be acting as an interface between the vehicle operations and your customers, or parents in the case of schools. In a busy operation, the transportation coordinator may not have time to deal with customer service. Your TS will need to be able to work with those who rely on your routing both to explain whatever situation has arisen and keep them happy.

Human resources: Your TS will likely be the one interviewing candidates for all levels of your transportation systems. They'll need strong interview skills, and the ability to evaluate applicants for positions such a driver, mechanic, and of course, transportation coordinator. A familiarity with all these roles and skills needed to succeed in them will be required.

Record keeping: A transportation supervisor is primarily a bureaucratic position, they will need exceptional paperwork skills. They will be responsible for maintaining budgets, overseeing maintenance costs, and handling job performance evaluations, along with more mundane tasks such as tracking mileage and time sheets.

Training experience: Your TS will also be the one responsible for creating, distributing, and often teaching the required training and safety measures for your operations. A background in teaching or communications is a plus here, although not strictly necessary. This is the area where familiarity with individual jobs is most vital, as well as a strong knowledge of the laws and regulations that your enterprise must adhere to.
When combined with the right transportation coordinator, a transportation supervisor will be able to make your vehicle operations run far more smoothly. That means better safety records, happier clients, and money saved.
While not as critical to operations as a transportation coordinator, finding the right supervisor will lift burdens off your shoulders and help keep your operations efficient.
Please Comment Below!