How Transportation Costs Can Impact School Budgets
published on March 29, 2022 by Sonia Mastros
route optimization, school transportation costs, school bus routing software, School Bus Routing, school bus driver shortages, inefficient routes, outdated routes, inaccurate routes, route efficiency, re-routing, bus shortages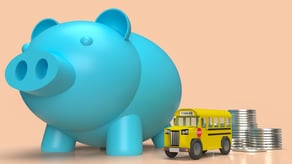 School transportation costs eat a huge chunk of any schools budget. The cost of transporting kids to school needs to be reduced.
Because there is such a high impact on school budgets from school transportation costs, school buses could soon become scarce. This could save the government millions of dollars, however it leaves parents and educators worried about the potential danger this will pose to children going to and from school.
This also makes life difficult for the decision makers, namely school bus routing contractors, vehicle routing coordinators and school bus transportation staff in general. If you are in this type of employment then it is very likely that you will feel the brunt of any animosity from parents. It's a no win situation for you.
School Buses vs. Parent Transport

Whenever schools are facing financial troubles, it is usually the school transportation costs that need to be reduced. School bus routing contractors will need to ensure that their decisions are made for the greater good of the pupils as a whole. They will need to analyze fuel costs and mileages to cut the school transportation costs without making it too difficult for students to attend school. No matter what they decide there is a very high probability that school buses will be replaced by parent's vehicles. If this happens, the traffic on the roads will increase significantly, which in turn will have a negative impact on health and the environment.
School Bus Routing Alternative
Vehicle routing coordinators have a hard task ahead of them, however you are not alone. In recent years, there has been a lot of research into how schools can cope with their buses being cut. As a result of this research, the Safe Routes to School National Partnership has come up with a strategic plan.
The Safe Routes to School National Partnership consists of 21 organizations and agencies. Parents, local government and police work together to ensure the safety of children on the trip to and from school.
Remember, safety first. Public bus transportation may also be more cost effective, while reducing the number of vehicles on the road.
School Bus Routing Software
Software like BusBoss can help find inefficiencies in your current routing to determine where changes can be made to minimize the number of buses needed to transport the same amount of kids. Fitting more students in each bus while reducing the number of buses needed can also help save the district some valuable money on fuel which can be put towards other areas.
Conclusion
Although there may not be as many buses available due to cuts in school transportation costs, it would seem that parents and communities are coming together and walking or cycling to school which is definitely healthier for all concerned.
Are you looking for ways to reduce costs by minimizing buses? Let us know in the comments below!