Better School Bus Routing Becomes Easy With Software
published on November 13, 2018 by Sonia Mastros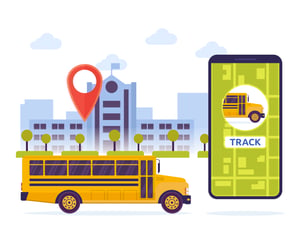 There are many difficult jobs associated with being the transportation director of a school district, but perhaps none are as difficult - in terms of labor - than laying out school bus routes. Doing school bus routing by hand is a time-consuming and tedious process, and one which is almost impossible for a person to optimize well. Worse, significant migration in or out of the school during the course of the year might mean having to recreate the bus routes multiple times.
However, there is an alternative. Modern school bus routing software can greatly simplify the process of creating bus routes, while also delivering far better optimization. Bus route creation software can easily pay for itself many times over not just in time savings, but by cutting costs as well.
Three Major Benefits From Using School Bus Routing Software
1. At-A-Click Route Creation
Bus routing software works a lot like the algorithms in a GPS navigation system, just at greater levels of complexity. After being fed a list of student addresses and setting a few other variables - like number of buses and desired walking distance from homes to bus stops - the system can create a full set of routes within moments. A process that could potentially take weeks by hand can instead be done in just a few minutes.
Of course, it can work off existing routes too. So if you see a lot of students enter or leave the district, it can quickly recalculate the routes to compensate with a minimum of disruption.
2. Cut On-Road Costs Through Optimization
The big long-term benefit of bus routing software is the ability to tightly optimize your routes. Shorter routes translate directly to lowered fuel costs, and well as lowered maintenance costs due to reduced wear and tear. These are real-world cost savings you'll see each and every day your buses run.
Want to play around with types of optimization, such as avoiding highways known to become congested? Not a problem. You can decide what factors the routing software prioritizes.
3. Avoid Dangerous Areas
On the other hand, are you in a district with areas that children should never go to? School bus routing software can just as easily work around restrictions on streets\neighborhoods the buses should never be allowed to drive in. You can customize the maps to the specific needs of your district and city, using any criteria that might be appropriate to the situation.
BusBoss Is Here to Simplify Your School Bus Routing
We offer the industry's premier all-in-one solution for creating bus routes. It also integrates easily with other solutions such as data-tracking, GPS systems, RFID tracking, and field trip planning systems. Contact us for a live demonstration!