Being a School Bus Driver Isn't As Easy as You Think
published on October 17, 2017 by Sonia Mastros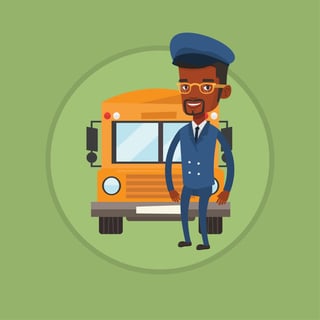 School districts across the country are struggling to fill vital school bus driver positions. There's a reason that great school bus drivers are difficult to find and keep: driving a school bus requires more than just driving skill and patience. The job requires a unique skill set, and it's not as easy as you'd think.
Transporting Students Safely
Maneuvering a large, complicated vehicle can be tricky, especially when road conditions are dangerous. Every school bus driver is required to hold a commercial driver's license. Before they take to the roads, most drivers must inspect their vehicles for any safety concerns and report any issues to transportation officials. School buses are extremely safe, but operating them in rain, snow, and wind is a complicated task.
Of course, there is an extra complication for drivers: buses are generally filled with active students. Multitasking is a must, so monitoring passengers, keeping an ear out for conflict, and addressing problematic behaviors is often part of the job. Reassigning seats and documenting any issues is another task that most bus drivers have to take on.
Making Life Easier for School Bus Drivers
There are several things that school districts can do to ease the burden that drivers face. Providing support to drivers, such as student monitors can help drivers keep their eyes on the road. Keeping the lines of communication open between drivers, transportation departments, and school officials can also make life easier for drivers.
Specialized transportation technology is also helping school districts to support their drivers. Some examples of help to school bus drivers and transportation teams are student monitoring systems with cameras, stop-arm technology that prevents illegal passing, software that develops routes that are safe and minimize traffic concerns, and rider tracking systems.
To discover more of the school bus technology that is designed to support staff and keep students safe, reach out to the knowledgeable team at BusBoss. We'd be happy to provide detailed information and a no-cost consultation to get you started.
How would you describe the day in the life of a bus driver? Are there any tools that your school district utilizes that make the job easier? We'd love to hear from you.