Back to School 2021 - Preparing for Uncertainty
published on September 17, 2021 by Sonia Mastros
School Buses,, school reopenings, back to school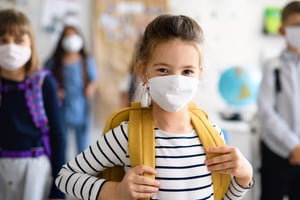 Few semesters have ever been under such a cloud of uncertainty as back to school 2021 will be. In many places, this is the first time that regular school will happen in over a year, and a lot of people are still worried about it happening smoothly.
A lot of that uncertainty is going to revolve around your school bus transportation. With the risk of COVID-19 infections still a concern, especially the new Delta variant, everyone in your district - including parents, students, and staff - needs to know that your transportation system will be ready to do its job while keeping students safe.
Here are a few suggestions.
1. Stock Up on Supplies
Your school buses should be fully stocked with vital supplies for keeping people safe. This includes masks and hand sanitizer, as well as first aid kits and other health necessities. Also, double-check your ridership and make sure you've covered any students with special needs, such as children in wheelchairs.
2. Consider Installing Safety Upgrades
It's not too late to retrofit your buses with extra health-related safety upgrades, such as adding a plexiglass shield around the driver. You might also consider disinfection systems such as sprayers or UV systems, to make it easier to clean buses after each run.
3. Plan Ahead for Reduced Ridership
COVID-19 is still too much of a threat to have your students packed to full capacity on buses. You will want bus routes in place that keep ridership low on each bus. One possible solution is to have school start in two separate 'shifts' such as middle school at 8 am and high school at 9 am. This would allow you to make two bus runs in the morning and afternoon, to cut down on riders.
4. Communicate Everything Thoroughly to the District
There should be no mysteries about how your district is responding to the coronavirus and keeping people safe. You should have clearly outlined policies and procedures which are available for everyone to see. Every person in your district should know how you'll be helping to keep them safe.
5. Have Open Avenues of Communication
People will have concerns, and questions that aren't addressed in the official announcements and releases. There should be a clear way for these people to contact someone and get these questions answered. Leaving people in the dark will only cause more fear and uncertainty.
Back to school 2021 is going to be a challenge for everyone. Has your district come up with any particularly clever ways to make it go more smoothly, or more safely? Please share your ideas in the comments!