5 Ways to Optimize Vehicle Lift Safety
published on February 07, 2017 by Sonia Mastros
school bus maintenance, fleet maintenance, vehicle lift safety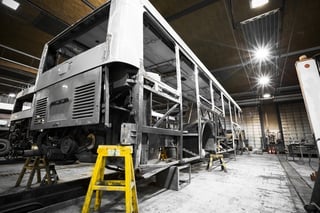 School bus maintenance is vital for keeping students safe on the road, but ensuring that maintenance staff stays safe should also be a top priority. It's estimated that over 15,000 accidents leading to hospitalization or death happen each year because of vehicle lifts. Many of these accidents may have been prevented by using the tips below. Here are five ways to optimize vehicle lift safety:
1. Purchase a lift that is ALI certified. These lifts are required to meet specific standards and are thoroughly evaluated for safety.
2. Have your lift inspected annually. This inspection should be completed by an ALI-certified inspector. A current inspection sticker should be affixed to the lift.
3. Keep detailed maintenance records. Always follow the manufacturer's instructions and suggested maintenance schedule. Keeping documentation of any maintenance procedures will help you to ensure that your equipment is safe to use.
4. Provide complete training for anyone using the lift. Any school bus maintenance staff who will be utilizing the lift should be properly trained. The manual should be read thoroughly and, when possible, additional training should be provided by the manufacturer, the ALI, or another professional organization. Lifts should never be modified and controls should not be overridden.
5. Utilize life usage best practices, such as never operating a lift when someone is inside of a vehicle and ensuring that the area under and around a bus is completely clear before lowering a vehicle. Lifts should not be overloaded and controls should always be manned whenever the lift is in motion.
Ensuring that every bus in your fleet is safe and operating at peak optimization is a huge task, and school bus maintenance staff have a myriad of issues to be concerned about. Fortunately, technology is helping school transportation programs to increase their efficiency while reducing their workload. By taking active steps like optimizing bus routes and simplifying reporting, school districts are reducing the stress placed on buses and those who are charged with their maintenance.
To learn more about school transportation technology and how it can help your school district, contact the team at BusBoss. We'd be glad to provide you with a demo and additional information that will help you to develop comprehensive solutions for your transportation department.
What is your school district doing to keep school bus maintenance safe for your team? Please share your tips for using school bus lifts safely. We would appreciate your feedback.