4 Tips for School Bus Driver Evacuation Training
published on February 09, 2018 by Sonia Mastros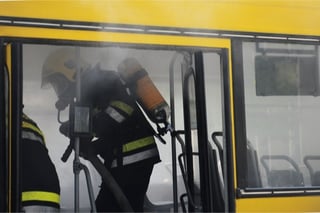 No one likes to contemplate the idea of a school bus being involved in a major accident, such as one which leads to it flipping or rolling. But, the reality is that such accidents are always a possibility. Even the best-trained school bus driver can be undone by circumstances beyond their control.
So, bus evacuation is an aspect of bus safety training that simply can't be ignored. The school bus driver and the students need the best possible chance of escaping a bus, even under crisis conditions.
Here are some tips we've picked up from districts we've worked with on how they implement bus evacuation training.
Get Out Alive: Implementing Effective Bus Evacuation Training
1. Have live training whenever possible.
Evacuation training should not be solely done inside classrooms. There should be test runs done inside actual buses. Make the students part of it, to ensure they know how the various emergency access doors, windows and panels work.
2. Make use of a decommissioned bus.
Do you happen to have an old school bus that isn't in operation, or know of one in a neighboring district? Think about tipping it on its side to do a drill where the normal exit simply isn't an option and movement will be impeded, forcing participants to navigate across the seats and go out through the top access panels.
3. Don't assume the back door (or any other exit point) will work.
A few years ago, a school bus in Maine was involved in an accident where its rear door was completely crushed and unusable. This made the district sit up and realize they couldn't simply train the students to go out the back. Include alternate evacuation plans that consider the possibility of blocked methods of egress.
4. Pick exemplary students for extra training.
Here's another potential scenario that no one likes to think about: What if the school bus driver is incapacitated? Would the students have enough direction and guidance to save themselves? Consider picking one or two students from each bus, ones you know to be reliable and have leadership skills, and give them extra training on how to conduct an evacuation on their own.
Better Routing and Tracking Software Also Helps
Another key aspect to preventing an accident from becoming deadly is response time. Do you always know where your buses are? A combination of computerized routing software and GPS tracking systems ensure you'll have the precise location of every bus, and can be warned if it ever unexpectedly comes to a stop or loses contact with the office. This can be the exact early warning you need to dispatch help quickly.
Contact BusBoss today to learn more about how technology can improve your bus and student safety.