4 Signs Your Fleet Management Software is Due for an Upgrade
published on February 05, 2016 by Sonia Mastros
bus routing software, route optimization, gps vehicle tracking, school bus routing software, GPS Tracking, school bus gps tracking, fleet management software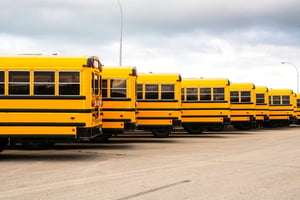 No matter the size of your fleet, implementing the right fleet management software will keep your students safer and save your district money. You understand the benefits of great transportation software, but with today's rapid technology advances, how do you know when it's time for an upgrade?
Are your school buses operating at maximum efficiency levels? Is your school district taking full advantage of the software options that are available to you? Here are 4 signs that your fleet management software is due for an update.
1. Your students experience long ride times.
Long ride times are a clear sign that bus routes are not optimized. Your fleet management software should include route optimization components that make rides smoother for students and drivers.
By analyzing your current routes and establishing practical solutions to inefficient routing, your district will save fuel, create safer routes, and reduce ride times. Today's transportation software includes optimization tools that analyze stop locations (utilizing student enrollment data, road restrictions, boundaries and walk-to-stop distances) and use this information to produce routing that works better for students and the district.
2. Your software does not include GPS tracking.
GPS technology is now incorporated into all kinds of systems, from car dashboards to smart phones. If your fleet management software does not have GPS tracking capabilities, you could be missing out on important safety and cost-saving features. With GPS, you can monitor route times and stop locations, as well as deviation from routes. This means that you'll always know where your buses have been.
3. Your drivers are overextended.
Long, inefficient routes can lead to burned out drivers. Your fleet management software should eliminate this problem by finding solutions for multiple stops and crowded routes. Effective school transportation software should also allow for consistent communication between drivers and administrators. Utilizing today's technology, drivers can complete reports and document rider data with ease.
4. You do not have access to real-time data.
There is no reason not to know where your students, drivers, and buses are while they are on the road. Knowing what's happening on your buses keeps your students and drivers safe and eases the minds of parents and administrators. If your fleet management software does not provide real-time data, you could be behind the times.
To speak to a transportation expert about upgrades to your fleet management software, contact our team by calling 866-740-8994 or click to chat now.
Have you recently upgraded your fleet management software? We'd love to hear more about why you made this choice and how things are going so far.