3 Ways GPS Vehicle Tracking Streamlines Your School Bus Transportation
published on May 12, 2015 by Sonia Mastros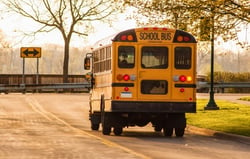 With the tightly packed schedules school bus transportation program employees face every day, there is little room for uncertainty in regards to the school bus routes drivers are expected to follow.Road closures, high traffic areas and buses breaking down pose problems when drivers must bring students to and from school on time. GPS vehicle tracking and school bus routing software solve these daily challenges while saving your school district money on transportation costs.
Discover three ways GPS tracking software streamlines your school bus transportation program.
1. GPS Vehicle Tracking Allows You To Import Actual Routes
GPS tracking collects data points when bus drivers travel routes preferred to the routes scheduled within the software. Often, school bus drivers are knowledgeable of roads that are faster, have less traffic or are safer for children.
When the driver traces a preferred route, the GPS vehicle tracking software imports it as a new route. This alternate road then serves as part of the primary route bus drivers take when running their daily schedule.
With the new school bus route programmed in the software, the school district will not receive deviation alerts because the system's map matches the route the driver takes.
Just as regular drivers often disregard the directions on consumer navigation systems because they know a better road to take, bus drivers are able to program the most efficient routes based on school bus routing software suggestions.
2. GPS Tracking Allows Users To Update Software With New Or Missing Roads
One of the benefits of bus routing software is that users are able to update maps frequently and easily. If drivers travel roads that are new, and maps do not show them, school districts are able to add missing or new roads to the program.
Within the school bus transportation software, the "trace" option allows users to add new roads as drivers previously traveled them.
An average of 13,042 miles of new roads were built per year in the United States between 2000 and 2012. Unless your program includes map updates, there is no way to know if bridges are closed or new roads are built. As such, it is beneficial to include map updates with your GPS tracking software.
TomTom users are able to update their maps every four months. Because maps are only useful when they are updated, it is advisable to schedule manual updates as well.
3. GPS Vehicle Tracking Finds Nearby Options If A Bus Breaks Down
When a school bus breaks down on its way to or from school, bus schedules and student safety are both at risk. GPS tracking is helpful in such a situation because it allows the school district to find other buses in the area immediately.
Bus drivers are then able to transfer students to other buses in an organized way so no one bus has too many students or has to deviate too far from its scheduled route. The school district knows exactly who is on which bus and is able to notify parents.
In the event of a bus breaking down, a closed road or an inefficient bus route, GPS vehicle tracking software offers solutions that help bus drivers bring students to school and home safely.
If your school district is interested in learning more about how school bus routing software solves other transportation program problems such as budget constraints or student safety issues, it is beneficial to speak with an industry professional knowledgeable on how GPS tracking has been implemented in school districts like yours.
Ready to discover how GPS vehicle tracking fits within your school district? Call 866-740-8994 to speak with an experienced industry professional or click below to access a live chat and receive assistance.