3 Benefits of Wi-Fi on School Buses
published on September 26, 2017 by Sonia Mastros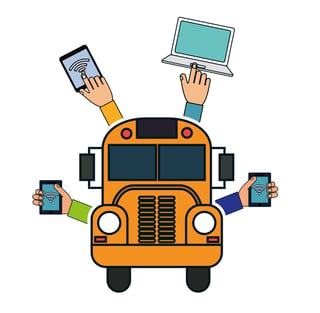 What was once the stuff of science fiction, are now a way of life. The Internet is everywhere, even on school buses! One district in California made the bold decision to make Wi-Fi available to its student population and the concept is quickly catching on. This may seem like just a luxury, but there are actually some solid reasons why school districts are offering Wi-Fi on school buses. Here are three key benefits:

1. It bridges the digital divide. Without reliable Internet service at home, low-income students and those who live in rural locations have difficultly researching and completing assignments. With Wi-Fi equipped school buses, students are able to complete homework on the way to and from school. Districts may also be parking school buses in low-income neighborhoods so some students have access to these valuable services at home. Students are provided with secure login information which allows them to utilize Wi-Fi at home or on the go through these "hot-spots."

2. It decreases problematic behavior. It's a simple concept: When students are occupied, they are less likely to display negative behaviors. School districts are now offering Wi-Fi on school buses, especially those with extended commutes, to decrease the likelihood of bullying and other undesirable behaviors.

3. It supports family and recreational time. Long trips to and from school cut into valuable time that can be spent with family or on extracurricular activities. Add homework on top of that and there is little free time left over. Wi-Fi on school buses gives students the opportunity to combine their commute with homework time, adding precious minutes and hours to their packed day.

Of course, Internet safety is a major concern for parents and school districts. Fortunately, in partnership with Wi-Fi providers, the same sorts of site-blocking and anti-virus software that protects school Internet users is available on the school bus. To learn more about up-and-coming transportation software and how it is helping school districts to thrive, contact BusBoss. Our team of transportation specialists will provide you with information on our services, integration options, and how to get the most from your school bus fleet.
Does your school district provide Wi-Fi on its buses? Do you think it's a good idea? What additional benefits have you discovered? We'd love to hear your opinion.