How A Transportation Routing Software System Lowers Costs
published on November 20, 2013 by Sonia Mastros
Transportation Management Software, transportation routing software, route planning, transportation manager, route planning software, school bus routing software, routing software
Budget. The big bottom line. It's impossible not to think about it because when the buck stops so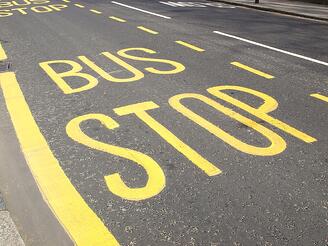 does your bus. With transportation routing software you can help lower your transportation services' cost by helping each vehicle in your fleet operate at their peak efficiency.
Transportation routing software utilizing GPS (Global Positioning System) can be used to track where your buses are in real time. It can show you what street they are on, what highway they have taken and where they have been re-routed due to road blocks. It can also alert you when buses are stopped and how long they idled. GPS can inform you of many different things. This helps you out how?
Reduce Mileage – Miles directly correlate to gallons of gas burned. The fewer miles it takes to complete your routes, the fewer visits your buses will have to make to the gas station and the more money you'll keep in your budget.

Reduce Idle Time – Beyond miles driven, idling can burn up your tank in a hurry. Cutting down on time spent standing still is another way to help you save.

Eliminate Miss-Direction – When your regular drivers are out of commission, substitutes might not be as familiar with the route. Transportation routing software helps them stay on track, saving you the cost of them getting lost.

Maximize Reimbursements – While reimbursement specifications vary from state to state, the most important factor is keeping an accurate record of your vehicles' driving history. This allows you to maximize your reimbursement, returning the most money back for your investment.

Easy Preparation – Are you planning for the next year? Does it seem like a huge task? With transportation routing software, planning can be simplified. It allows you to look at your current scenario, who you are serving and where you are serving them. It lets you determine which routes will be the most efficient for the next year and where you can optimize and make changes.

Optimize And/or Eliminate Existing Routes and Stops– By utilizing transportation routing software, you can view how routes operate, how many passengers are using them and how they can be optimized to operate more efficiently. It will also give you an idea of which routes you can consolidate. By optimizing and/or eliminating routes, you not only save money at the gas station, but the wear and tear on extra vehicles.
In today's world, it is important to consider how a little pre-planning can save you big bucks and big headaches later on. Transportation routing software helps protect you and your drivers against any potential claims. The software helps drivers track any incidents that take place, exactly when and where they happen. When a dispute occurs, you will have all the facts to help you and the other party reach a resolution quickly.
Beyond incidents, tracking software will help you be prepared for an audit. Not only does it save you stress and worry over dealing with the state, it saves you a significant amount of time when an audit occurs. Why? Because it allows you to quickly and easily print reports, and gather the information needed in a timely manner.
With transportation routing software, you can ensure your routes are operating at their maximum efficiency, worry less about your budget and save money!