5 Ways To Use Routing And Scheduling Software
published on March 07, 2013 by Sonia Mastros
route software, routing and scheduling software, school bus routing software, school bus driver
Gone are the days of having to use pen, paper, and manually putting in reports for an entire fleet of buses. Say goodbye to the ways of having to chart through large maps and use push-pins--now, you can easily keep track of everything, from routing to scheduling to the children on the buses themselves, with the aid of routing and scheduling software all at your fingertips.
But, how exactly can you use all of that routing software for your own needs? There is certainly more to it than just a piece of software that can keep track of all of those routes, there is an entire suite of features that you can take advantage of so your fleet is as effic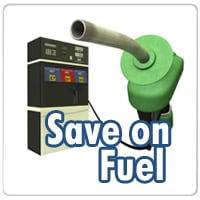 ient as possible.

1. Save on fuel expenses
One of the biggest concerns when it comes to operating an entire fleet is making sure to account for all of the gas consumption of each vehicle. With gas prices not getting any better in the future, having to figure out new ways to keep gas budgeting low can leave a transportation coordinator scratching their heads. Until you bring in routing and scheduling software into the mix.
Being able to expertly route and schedule the best, most efficient ways for your fleet to manage their transportation times also means saving more on fuel expenses because the software can suggest the best alternative routes. It can also save all of these routes and let you tweak them while on the fly, making saving gas even easier than before.
2. Re-routes and re-schedules
Sometimes things don't go according to plan, but you can be there with all of the right answers to make sure everyone is where they need to be in a relatively timely and assured safe fashion. Because the software routes and schedules in a live setting, instead of having to be updated after putting in data, you can approach any issues with ease.
3. Keep track of employees
When doing reports on employees and their mileage numbers, sometimes discrepancies can occur and that can leave you at odds with your school bus driver and contractors. In order to make sure that you don't have to worry about any unnecessary problems that could arise from mileage numbers, routing and scheduling software can help you keep track of your entire fleet on a live-updated map. Every turn and stop they take can be monitored to make sure they are where they need to be.
4. Group students to better manage routes

Routing and scheduling software can make sure that all of the students under your care are grouped together in sets of similar routes, buses, schools, and many other options to save you valuable time. When students can be grouped together, you can just focus on that segment rather than having to organize by each individual route.
5. Better tracking of individual vehicles
Speaking of having a better grasp on a driver's mileage, you can also maintain the well being of each individual vehicle as well as have a "profile" of all their current routes, past routes, the schedule they run on, as well as the student load on the bus for each individual route. All of this plays an important role when considering different vehicles for different routes as well as making sure all buses are being maintained.
Should a bus need to have some maintenance done, you can know ahead of time with a full set of information that can help determine any problems and their fixes. All from routing and scheduling software! It is that easy to be able to monitor all of this data without the need of doing it all manually.