GPS Vehicle Tracking: Strengthening Trust While Reducing Costs
published on September 07, 2012 by George Mastros
route planning, bus route optimization, Save Route Costs, gps vehicle tracking, fleet optimization
When concerned parents are waiting for the school bus, every passing second is a potential moment for panic.
From pick-up to drop-off, parents hold schools financially accountable if their child is on the bus, and the cost of that responsibility can become a serious liability.
Parents expect perfect performance at every level of the school bus transportation system, and the safety of their child carries a priceless importance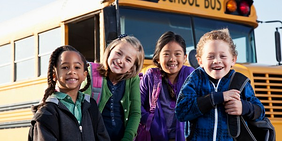 in their lives. When their children are on the school bus, those expectations are transferred to the responsibility of the school, and schools are held fully accountable for the protection and safety of every child on the bus, during every moment of transportation.
Accordingly, parents assume the daily transfer from a bus stop to the school, and from school to a bus stop, will be seamlessly executed, on the same schedule, every single day. Parents assume administrators are aware of the location of their children at all times, and they believe that if they pick up the phone and call bus dispatch, any employee that answers the phone can tell them exactly where along the bus route their child is located, and they assume this to be the case every single time they make a phone call.
School bus transportation dispatch is aware of the many, daily schedule changes that arise from employee emergencies, bus maintenance issues, traffic disruptions, and sudden route changes; therefore, if a parent becomes alarmed and immediately calls the school or transportation department, their expectations will likely exceed the knowledge and ability of the staff to instantly respond.
In the event of an emergency, communications between the school and the bus driver can become complicated, as it can be logistically very difficult for the driver to accurately, and specifically, communicate details while appropriately reacting to a situation. In such moments, parents may panic, and situations can escalate out of control very quickly. If a child experiences a serious problem, often times the parents will seek large financial relief as a means to send a message. The results can be devastating for everyone, and the message can be a stern warning to fix the current system.
Budgeting Child Safety: The Cost Of Fulfilling Parental Expectation
School budgets often experience cuts rather than increases, so as student populations grow, school funds to purchase new buses and pay more drivers to accommodate expanding and new bus routes can remain flat or even decrease. In addition, with growth comes greater opportunity and potential for error and emergency. To address these related budgetary and logistical concerns, it is recommended that related fixed and variable costs be divided into two groups:
Fixed Costs (cannot be changed):
number of students requiring transportation
special needs accommodations
Variable Costs (areas to cut or improve through efficiency):
number of school bus drivers
length and paths of individual bus routes
To save money, a bus transportation system can improve the efficiency of its bus route. The ability to accomplish this goal will be directly related to the amount and integrity of historical bus route data. The most accurate data should be collected electronically and objectively. Most importantly, the substantial cost of an emergency should be viewed as a school's largest liability. While not all emergencies can be eliminated, minimizing their frequency will have the largest impact on future financial stability.
When faced with such challenges, many civil services have leveraged technological advancements to reduce potential error and cost. Ambulances, fire trucks and police vehicles all employ high tech systems to save time and money, while increasing efficiency and accuracy. Logically, school bus transportation systems could greatly benefit from a similar upgrade.
School Bus GPS Vehicle Tracking: Strengthening Trust While Reducing Cost
The Global Positioning System (GPS) is a satellite navigation system that provides location and time information anywhere on Earth. It is maintained by the government and freely accessible to anyone with a GPS receiver. GPS vehicle tracking for a school bus removes communication error from the bus transportation system by providing quick, exact and identical information to parents and school staff, simultaneously. In addition, this data can be stored and analyzed for future efficiency and budgeting processes aimed at minimizing variable costs. While it is free to receive GPS vehicle tracking information, costs are incurred during installation of a transmitter, as well as while transmitting GPS information to receivers.
Therefore, the potential costs include:
installation of a GPS transmitter per school bus
monthly GPS signal transmission output per school bus
However, the potential savings include:
increased parental knowledge
improved dispatch communication
improved emergency response time
improved driving time accuracy
improved efficiency of length and path of number of bus routes
decreased number of buses needed
decreased number of drivers needed
decreased bus dispatch labor
decreased fuel consumption
decreased bus maintenance costs
Virtually all variable costs of bus transportation can be improved through the implementation of GPS vehicle tracking through in-depth analysis of vast amounts of reliable data, and ultimately, in the event of an accident or emergency, a mass amount of critical time can be potentially saved by emergency responders, for they already have the ability to instantly acquire the immediate GPS location of any bus within such a system.
In The Event Of An Emergency, Instant GPS Vehicle Tracking Information Can Potentially Be The Key To Avoiding An Immense Liability Expense.
Improving Communication Between School Bus Drivers And Parents
Without the reliability of a GPS vehicle tracking system, worried parents initially question the judgment and reaction of the school bus driver. Because a child is not only the bus driver's responsibility, that burden of explanation can become a problem for the entire transportation system.
By gathering independently verifiable GPS data, the location of a bus can be instantly determined along its route, which can then be synchronized with other information for further documentation of facts. In the event of a traffic accident or bus stop dispute, GPS information will verify correct action of good drivers and substantiate driver claims.
For parents, the value of more consistent and timely pick-ups and drop-offs can create an environment of trust that can be measured in fewer phone calls, less complaints, and lower financial damages from accidents and legal action. This benefit will increase the trust needed for managing field trips, while raising driver morale with less distracting concerns from parents, creating a better environment for everyone.
In this way, school bus drivers will realize the full benefit of GPS tracking, as opposed to feeling watched and monitored. Bus drivers will see the positive reactions of parents at bus stops, which will personally translate into feeling less stress and personal scrutiny.
GPS Vehicle Tracking Systems Improve School Budgets Over Time
By averting costly catastrophes and creating more efficient bus routes, school bus GPS vehicle tracking will pay for itself within a short amount of time. Simply avoiding one expensive lawsuit per year would justify the implementation of the system and create the goodwill and confidence that parents are searching for in trusted school superintendent decision making.