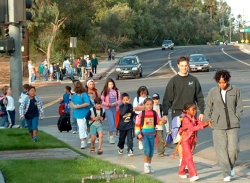 With school transportation costs rising, many public schools are beginning to make drastic changes to their transportation polices. The more the schools must depend on themselves and less on government funding, the burden of school transportation costs falls to schools and parents alike.

For instance, in the case of Westford Public Schools in Massachusetts, they are requiring a fee for allowing children within two miles of the school to ride the bus. At present, those who live outside a two-mile radius are still allowed to ride without a fee. However, all students are required to have bus passes. These can range from $225 to $600, depending on how many children from each family are riding.

Whereas, Jeffco Public Schools in Colorado are charging students $150 per student for all those who ride. Children who are within walking distance of the school will be required to pay $200, but will be allowed only if there is room. Kindergartners, either half- or full-day students will be required to pay between $75 to $100, depending on whether they attend the neighborhood schools or an optional one.

The Kenai Peninsula Borough School District has taken a different view, in hopes of reducing the school transportation costs. The bus schedules have been tiered, to allow the same bus to cover two different routes. This reduces the number of buses and personnel required. However, this also changes the daily schedule for the school, of when they begin and end for the day. They also require that children attending option schools, instead of neighborhood schools, be transported by the parents. There have even been changes in the boundaries for which areas will be serviced by the neighborhood schools. The Kenai Schools also are reducing their driver contracts from five years to one year, in hope of finding more ways to reduce costs, without commitments to employees. This way, they are able to see if merely changing schedules and using fewer buses will reduce school transportation costs significantly enough to keep their doors open.

Are there ways that you have found that work? Has there been a situation where an idea has been tried and did not work? It may be helpful for different schools to share some ideas, in order to reduce the trial and error stage of trying to save money on school transportation costs. In this economy, every little bit helps and schools need all the help they can get.